TONGA CHINA COMMIT TO TOURISM COOPERATION
Thursday, July 23rd, 2015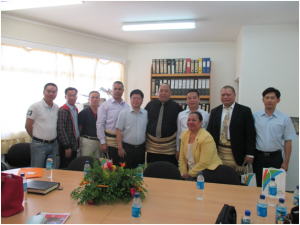 From the Memorandum of Understanding (MOU) signed by the Tonga Ministry of Tourism (MOT) and the China National Tourism Administration (CNTA) on 3rd July, 2015, both parties declared their commitment to work together in areas of information sharing, marketing promotion, cultural exchange, personnel training and other related activities.
In this connection, a 2nd Working Group from China was dispatched to Tonga this week to familiarize themselves with the country and her tourism products. The mission is to assist them with the development of a plan for future cooperation in the sectors of tourism, health, education, investment, etc. The delegation is composed of members from the Guangdong Foreign Affairs Office and Municipal Government of Dongguan. The Province of Guangdong plays an active role in promoting the cooperation between China and Tonga.
Next week (last week of July), a 3rd group of 60 Tour Operators from various parts of China will be visiting the Kingdom for similar purposes. This mission will particularly focus on finalization of plans before China starts sending tourists to the Kingdom. The Guangdong province will start with a hundred tourists whilst CNTA will send thousands before the end of the year to start off with.
Meanwhile, the Ministry of Tourism, in collaboration with the Tonga Tourist Association and all stakeholders are preparing to meet the needs and the expectations of tourists from China. Tonga's major traditional tourist markets are New Zealand, Australia and the United States. However, the inflow of Chinese tourists is part of the Ministry's plan to diversify and open up to other new markets to increase revenue and the number of tourists to the Kingdom.
The Ministry is also mindful of the need to upgrade infrastructure and improve on existing facilities and services, in both capacity and standard. Thus, attracting foreign investors from more developed countries, like China, is also an integral part of the Ministry's Corporate Plan. The Ministry is continually encouraging stakeholders to stand firm, hold hands and work together to achieve their dreams and vision for tourism. Not only will the Tourism Industry benefit from this alone, but the whole Kingdom and future generations.
---